"I Can't Stop Me" (stylized as I CAN'T STOP ME) is the title track of Twice's 2nd full album "Eyes wide open". The title track and music video was released on October 26, 2020.
The song expresses the difficulties of control oneself while conflicting over good and evil.
The title track is choreographed by Jonte Moaning (Beyoncé 'Single Ladies' choreographer) as well as Kiel Tutin and Leejung who previously collaborated for More & More.
An English version of the song was released on November 30, 2020. On the same day, Twice's pre-recorded performance released on The Late Show with Stephen Colbert's Youtube channel; it is the first time that their music is being promoted to the US market.
Audio
Spotify
YouTube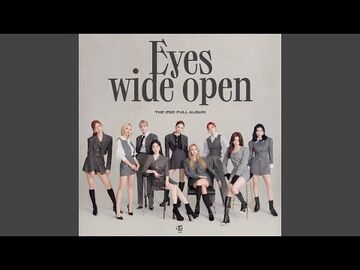 Lyrics
Music Shows
November 12 - M Countdown Win (Twice did not perform at the show.)
November 15 - Inkigayo Win (Twice did not perform at the show.)
January 3 - Inkigayo Win (Twice did not perform at the show.)
Video Gallery
Trivia
Jeongyeon wasn't able to promote the song due to her health issues.

She first performed the song on January 31, 2021 at the 2021 Seoul Music Awards.

I Can't Stop Me is a sequel of More & More (and possibly to Dance The Night Away).
This song is the first TWICE Song that performed in STUDIO CHOOM
It is the first time for Momo to receive a rap part for a title track, alongside with Dahyun and Chaeyoung.
This song was originally titled "51%", with the meaning of "going over the line".[1]
Most of the song was changed after the members had already recorded their parts, their current parts were also different from the ones in original version.[1]
Chaeyoung had the idea of flowers being projected onto the wall for certain parts of the music video,[2] the part where she sings "This is an emergency" features this concept, among multiple other scenes featuring other members.
References