Twice debuted in Japan on June 28, 2017.
Pre-debut promotion
In early February 2017, Twice launched their Japanese website and other social media channels. Large photos and ads of Twice were seen on the walls of busy shopping districts and subway station in Tokyo on February 8. It is also notable that the "TT pose", which is part of the choreography of the group's song "TT", was imitated by several Japanese celebrities on SNS and became popular among teenagers. On February 24, they official announced their debut in Japan on June 28, 2017. They also released a mini-album "What's Twice?" which consists of 4 songs including 3 title tracks.
They will be releasing a compilation album titled #TWICE which consists of 10 songs including both Korean and Japanese-language versions of "Like Ooh-Ahh," "Cheer Up" and "TT." On the same day, five Japanese morning program informed viewers of the upcoming debut and featured Twice in an interview.
On March 21, Twice confirmed their debut showcase in Japan on July 2 which will be held in Tokyo Metropolitan Gymnasium.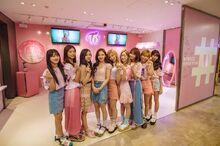 On March 31, TWICE songs is introduced in Jthe apanese TV show "Buzzism" (Buzz Rhythm) on one of their segments. 
On April 14, Twice has appeared on TV Asahi Music Station, introducing the group, members and their debut. 
Twice appeared on Mezamashi TV on April 26 which showed their interview and also to meet J-Once. They have flew over to Japan Shibuya for filming. On April 28, Twice appeared on NIPPON TV - ZIP! 
On June 14, 2017, Twice was announced that the group would have a collaboration with Shibuya 109 store's 109 Summer Sale campaign for 2017 to mark the album release of #TWICE. The store will host pop-up stores called #Twice Pop-up Store and #Twice Gallery at its Tokyo and Osaka branches throughout July. They also launched a promotion campaign with Tokyo Tower.  
2017: Japan Debut, #TWICE album and Touchdown! debut showcase
On June 28, Twice released their special best album #TWICE. 
For celebrating Twice's debut on June 28, on June 29, Warner Music Japan displayed the word "TT" on Tokyo Tower, which only light-ups for very special days or awareness days.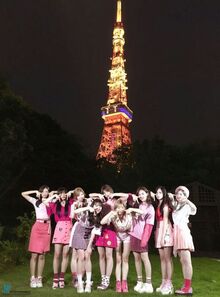 On June 30, Twice appeared for 2 hours and performed on Music Station. Twice are the first K-pop group to be on Music Station in 5 years. Twice also appeared on NHK News, which introduce the group. Twice were also interviewed about hardships of having members from different nationalities and how they work together as a group.  
The same day Twice performed "TT (Japanese ver.)" for the first time on a television program on the June 30th episode of Music Station, the first South Korean girl group to perform on the show since 2012. They appeared on the 2-hour special episode along with Exile The Second, Kanjani8, Keyakizaka46, Dean Fujioka, Tomoyo Harada and Hey! Say! JUMP. 
On June 29–30, letters "TT", which represent the title track, were displayed in bright pink lighting on the Japanese tourist destination.
On July 2, Twice held their two-part debut showcase titled Touchdown in Japan in Tokyo Metropolitan Gymnasium. The two showcases attracted a total of 15,000 fans. It is estimated that Twice to have made 1.5 billion won only from Japanese debut showcase merchandise sales, and 10 items had sold out. 
On July 5-6, Twice held their 2 days Hi-touch event in Tokyo and Osaka, as a thank you to all Japanese fans for supporting their debut, which drew in about 20,000 fans. The chance to participate in the hi-touch was based on photocards from the #TWICE album, with hi-touch tickets correlating to the photocards. 
The release of their first compilation album titled #TWICE debuted at number 2 on Oricon Albums Chart, which sold 136,157 copies within seven days, the highest first week album sales among K-pop artists in Japan in the last two years. In less than two months, it sold over 260,000 copies, earning it a Platinum certification by the Recording Industry Association of Japan (RIAJ). 
Twice released their first Japanese single music video "One More Time" on October 5 and the single of the same time will release on October 18. The music video has reached 10 million views after 5 days since release.Twice will be attending the Japanese radio show "School of Lock" on October 19 where they will give advice on worries that the callers send in.
Twice and BTS attended the TV Arashi Music Station Super Live on December 22. Twice performed "TT (Japanese ver.)". This is the second time that Twice had been invited to perform at Music Station.
It was officially announced through a press conference in Tokyo that the group would debut on the 68th Kōhaku Uta Gassen, the top-rated annual year-end musical show in Japan produced by NHK. It was held live at NHK Hall on December 31, where Twice performed "TT (Japanese ver.)". They were the first Korean artist to attend the event in the last six years and the fourth K-pop group after TVXQ, Kara and Girls' Generation.
2018: "Candy Pop", Japan Showcase, "Wake Me Up", "I Want You Back" & "BDZ"
Twice's second Japanese maxi single titled "Candy Pop" was pre-released on January 12, 2018 and the CD single is released on February 7. The group also embarked on their first concert tour in Japan titled Twice Showcase Live Tour 2018 "Candy Pop", starting on January 19 in Aichi Prefecture.
On April 15, Twice released the teaser for their 3rd Japanese Single, "Wake Me Up". The song of the same title was pre-released as background music for their endorsement, "NIKE AIR MAX". And the single is set to release on May 16. On May 25, Twice attended on Music Station for the 4th time, performing "Wake Me Up" and "What Is Love?", making the first Korean girl group to perform a Korean song on a Japanese TV show.
Twice released a cover of "I Want You Back" by The Jackson Five as an OST for the soundtrack of the Japanese movie "Sensei Kunshu". The whole song was covered in english. Both the song and music video was released digitally on June 15.
On June 27, Twice made a collaboration with the cast of "Sensei Kunshu" for a special music video of "I Want You Back" as promotion for the movie.
On August 17, Twice released the song and music video for BDZ. They performed "BDZ" their first time on Music Station on August 31 which was their sixth time on Music Station. They are also invited to perform again on the Music Station "2018 M Station Ultra Fes" on September 17. Twice will be joining a lot of famous Japanese artists at the show including artists and M Station regulars like AKB48, E-girls, GENERATIONS, and Hey! Say! JUMP. The next day, Twice was invited to the Tokyo Girls Collection 2018. They opened the show and performed 3 songs; TT, Dance The Night Away and BDZ.
On September 12, TWICE released their first Japanese studio album "BDZ." According to Japan's largest music statistics site Oricon, "BDZ" reached 89,721 units sold in its first day and took the No. 1 spot on Oricon's daily album chart for September 11. On the September 12 chart, it remains in No. 1.
On September 21, it was announced that a new original song called "Stay By My Side" was chosen as the theme song for the Japanese drama Damekoi. The song will be available in late October.
The album "BDZ" was followed with their concert tour named Twice 1st Arena Tour 2018 "BDZ", beginning in Chiba on September 29.
On October 17, TWICE announced the big news that they'll be performing shows at some of Japan's famous dome stadiums in 2019. The announcement includes two dates at Tokyo Dome, one at Nagoya Dome, and one at Kyocera Dome.
On November 13, Japanese media outlet Oricon Style reported, TWICE's EP Yes Or Yes recorded 33,000 albums sold in its first week, and TWICE also took their first No. 1 with an imported album on Oricon's weekly album chart.
According to YouTube FanFest's website, TWICE is one of the many artists to perform at the Japanese leg of the year-long, international event.
2019 & 2020
As of April 22 at 9 p.m. KST, the track Fancy placed No. 1 on Japanese music streaming service Line Music's Top 100 chart, with the chart also including the group's b-side tracks. Thus, all six songs from Fancy You took over the chart's top six.
On March 6, 2019, they released their second Japanese compilation album #Twice2.
Twice made history as the first female K-pop act to hold a Japanese dome tour, named Twice Dome Tour 2019 "#Dreamday". The tour garnered a total audience of 220,000 during five shows in Osaka, Tokyo and Nagoya, and was held in March and April 2019. All 220,000 tickets were sold out within a minute after the ticket sales commenced.
On June 12, 2019, Twice released both "Happy Happy" and "Breakthrough" singles digitally.  On July 17, 2019, JYP Entertainment announced the addition of a Japanese leg after reaching tens of thousands of fans on Southeast Asia and North America legs of the World Tour "Twicelights". They would stage twelve concerts in seven Japanese cities from October to February 2020. On the same date, "Happy Happy" was released physically and "Breakthrough" would also be released the following week. Both singles were received the Platinum certificates by the RIAJ.
Twice released their second Japanese studio album &Twice on November 20, 2019. Its lead single "Fake & True" was pre-released as a digital single on October 18, 2019. In Japan, Twice surpassed 5 billion yen worth of record sales in 2019. The group was the best-selling foreign artist and ranked fourth overall in the Artist Sales category of the 52nd Oricon Annual Ranking. On Billboard Japan, Twice ranked fifth in the Top Artist category of the 2019 year-end rankings. They ranked the top five for three consecutive years. The group also became the fifth most streamed act on Spotify in the country.
Twice released a repackage of studio album &Twice on February 5, 2020, adding a new song titled "Swing" along with a new version of the "Fake & True" music video called "The Truth Game".
On May 5, 2020, Warner Music Japan released the news of Twice releasing a new Japanese single on July 8, 2020 with the track "Fanfare".
Discography
Fans
Before Twice's debut in Japan, there are already many fans from Japan and also celebrities who knew about them:
Nogizaka46 - Saito Yuri, Watanabe Miria, Shinuchi Mai, Itou Junna, Matsumura Sayuri, Iwamoto Renka,
Keyakizaka46 - Watanabe Rika, Nagasawa Nanako, Ozeki Rika, Kumi Sasaki, Watanabe Risa
Community content is available under
CC-BY-SA
unless otherwise noted.