"
One in a Million! Annyeonghasseo, Twice imnida!
"

–TWICE
"
One in a Million! Hi, we are TWICE!
"

–Twice, in English
Twice (Hangul: 트와이스; stylized as TWICE) is a South Korea-based girl group formed by JYP Entertainment through the 2015 reality show Sixteen. The group is composed of nine members: Nayeon, Jeongyeon, Momo, Sana, Jihyo, Mina, Dahyun, Chaeyoung and Tzuyu. The name of the group "TWICE" was named by Park Jin Young.
"
The group will touch people's hearts twice, once through the ears, and once again through the eyes.
"

–Park Jin Young, Meaning of the group
The group debuted on October 20, 2015, with the mini-album The Story Begins. Their official lightstick is called "Candy Bong". The official Twice logo that connects T and W was designed by member Chaeyoung and is put in all of Twice's official activities. On the official SNS accounts and YouTube channel, the logo is also updated to match the concept color on every comeback and used as a profile picture.
Nickname
Twice have been given many nicknames throughout the years from fans. One of their most well known to all fans is Teudoongie, which is an affectionate nickname given to the group as a whole from fans.

History
Pre-debut
New JYP girl group and Sixteen
On December 19, 2013, JYP Entertainment announced that they would debut a new girl group in the first half of 2014, the first female group to come out of the company since the debut of miss A in 2010. On February 27, 2014, JYP trainees Lena and Cecilia were confirmed as members of the group, while other rumored members included JYP trainees Nayeon, Jeongyeon, Jisoo (later Jihyo) and Minyoung. After Cecilia's departure, JYP trainee Sana replaced her and 6mix was about to debut when Lena left the company, effectively canceling their debut.
On February 11, 2015, Park Jin-young announced that the lineup of JYP's upcoming seven member girl group would be decided through Sixteen, a competition survival show that would air on Mnet later that year. Park explained in a press conference prior to the show's airing that he hoped the group would "have the Wonder Girls' and miss A's natural, healthy feel, with an edgier and wilder side. I want to upgrade this next group by adding elements like hip-hop and rap."
The show began on May 5 and ended with Nayeon, Sana, Dahyun, Chaeyoung, Mina, Jihyo, and Jeongyeon as the seven Twice members. JYP then announced that he would be increasing the size of the group from 7 members to 9 by adding Tzuyu, who was the "audience's pick" since she was the most popular contestant by the show's end, and Momo, who was added by JYP himself since he felt the group needed someone with Momo's performance abilities. The decision was controversial at the time with many people complaining about eliminated contestants being able to join the group.
Twice was to debut in late 2015.
On July 10, 2015, Twice opened their official Instagram account with the first picture of the nine members posing together. JYP Entertainment released Twice TV, a web series that shared the members' hopes and stories through interviews and followed them as they prepared for their debut.
2015
Debut with The Story Begins
On October 7, 2015, JYP Entertainment launched the band's official website and announced via SNS that the group would debut with the mini-album The Story Begins and title track "Like OOH-AHH". The track was described as a 'color pop' dance track with elements of hip-hop, rock, and R&B. The composition team included Black Eyed Pilseung, known for composing successful releases such as Miss A's "Only You." On October 20, the album and the song's music video were released online and through the Naver V App. The group held a live showcase the same day, where they performed "Like OOH-AHH" along with dance tracks "I think I'm Crazy" and "Do It Again."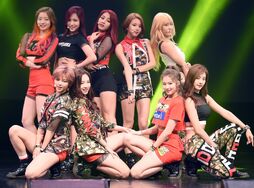 The music video hit 50 million views within five months of their debut and became the most-viewed debut music video for any K-pop group. By December, Twice had signed ten CF contracts totaling earnings of KRW1.8 billion. It is the most for any rookie girl group after a month since debut. On December 27, the band performed a remix version of their single "Like OOH-AHH" at SBS Gayo Daejeon, Twice's first-ever attendance on a year-end music program.
2016
Cheer Up, TT, Knock Knock and first solo concert
Twice's second mini-album, Page Two, was released on April 25, 2016. The album includes title track
"Cheer Up", a remake of Park Ji-yoon's "Precious Love", and "I'm Gonna Be a Star", which served as the theme song for Sixteen. The group held their comeback showcase the same day at the Yes24 Live Hall located in Seoul, South Korea. The music video of the title track hit 10 million views on YouTube within five days. Twice won their first music program award on May 5, 2016, on M! Countdown, exactly one year after the initial airing of Sixteen. This was soon followed by wins on Music Bank and Inkigayo.
On August 16, 2016, it was reported that Twice's second mini-album Page Two had sold over 150,000 copies, making it the first girl group having a sales record of more than 100,000 units this year.
On September 23, 2016, Twice released their two official colours, namely Apricot (Pantone 712 C) and Neon Magenta (Pantone 812 C), which signify the group and their fan club called "Once". Five days later, JYP Entertainment announced that the group is preparing for a late October comeback with a new album and another title track by Black Eyed Pilseung, though the final schedule has not been set. On October 10, the agency released a time table for their third extended play, titled TWICEcoaster: LANE 1, through their official homepage and SNS, which shows Twice's promotion schedule beginning October 10 until the release of their album on the 24th. On October 19, Twice revealed their official light with their official colours called "Candy Bong", which is inspired by song "Candy Boy" from their first mini album. In celebration of Twice's first anniversary since debut, the group unveiled their new song "One in a Million", through a live broadcast on Naver V Live on October 20 at 22:30 KST.
On October 24, 2016, TWICEcoaster: LANE 1 and the music video of the laid-back but light and cheerful pop dance song "TT" was released online. Twice held their showcase the same day, where they performed "One in a Million", "Jelly Jelly" and "TT" for the first time.
On November 11, 2016, the music video for "Like OOH-AHH" hit 100 million views on YouTube, which makes Twice became the fourth K-pop girl group to reach 100 million views, as well as the first debut music video for any K-pop group to reach this milestone. The music video for "Cheer Up" followed six days later.
On December 5, 2016, it was announced through their official Twitter that the group would be releasing a Christmas edition of TWICEcoaster: LANE 1. It was released on December 19 with the same track listing.
On January 3, 2017, the music video for "TT" hit 100 million views, becoming the fastest K-pop group music video to do so and breaking Twice's own record previously set by "Cheer Up".
On January 10, 2017, JYP Entertainment announced Twice's first solo concert within just a year and four months of debuting in October 2015. The three-day concert titled Twice 1st Tour: Twiceland The Opening will be held on February 17–19 at the SK Olympic Handball Stadium, and is the first stop of their world tour.
On January 18, the agency also announced that Twice will release a special album in February after the Korean leg of the concert tour. The album is reportedly another reissue of Twicecoaster: Lane 1.
Lane 2 and its lead single, "Knock Knock", were both released on February 20, 2017. After its release, it was reported that the reissue sold more than 310,000 copies in pre-orders within a week.
2017
Signal, Japan Debut and KCON17NY
On February 24, they official announced their debut in Japan on June 28, 2017. They will be releasing a compilation album titled #TWICE which consists of 10 songs including both Korean and Japanese-language versions of "Like Ooh-Ahh," "Cheer Up" and "TT." On the same day, five Japanese morning program informed viewers of the upcoming debut and featured Twice in an interview.
On April 7, KCON has announced that Twice will be joining their first lineup with CNBlue to join KCON in New York on June 23 to 24.
On April 18, JYPE has confirmed Twice's comeback on the 3rd week of May. Promotion period will last for 2 weeks. On April 27, JYPE announced that Twice have secretly finished their filming the MV of their title song. The song will be composed by Park Jin Young and Joe J Lee 'Kairos', it is the first time that TWICE and JYP working together. The new song will be able to show Twice members' individual personality. After announcing their comeback, Twice has released their first teaser photo through SNS on April 30. The photo revealed their titled song "Signal" and their comeback confirmed on May 15 at 6pm.
By the end of April, Twice is ranked number 1 on Girl group Brand Big Data (Brand Reputation Index) for the whole April for 6 months straight from last October.
The album "Signal", along with the music video for "Signal" was released on May 15 at 18:00 KST. It contains six tracks, including "Eye Eye Eyes" co-written by members Jihyo and Chaeyoung, and "Only You" written by former Wonder Girls member Ha:tfelt.
On May 20, the music video "Knock Knock" hit 100 million views, becoming the 4th title song to hit the million mark.
On June 14, Twice digitally released "
Signal (Japanese ver.)
", along with the short version of its music
video, as a preview and countdown to album release. A week later, they released the full music video of the Japanese version of "
TT
".
On June 17-18, Twice hold their 2 days Encore concert of Twiceland.
On June 24, Twice performed at KCON in New York. They performed JYP special stage and all five of their titled songs.
On June 28, Twice officially debut in Japan with the release of their first compilation album titled #Twice. The album debuted at number 2 on Oricon Albums Chart, which sold 136,157 copies within seven days, the highest first week album sales among K-pop artists in Japan in the last two years. In less than two months, it sold over 260,000 copies, earning it a Platinum certification by the Recording Industry Association of Japan (RIAJ).
Once Begins Fan Meeting & First full album Twicetagram
On September 7, Twice filmed their music video in Canada indicated a comeback from the group. Twice held their 2nd anniversary fan meeting "Once Begins" on October 14 and 15 where Twice are able to celebrate their anniversary with their fans.
On October 18, the group released their first Japanese single, "One More Time". The music video was first released on October 6. The single album achieved the biggest first-day sales and became the fastest-selling album of any South Korean girl group in Japan. Both #Twice and "One More Time" earned Platinum certification by the Recording Industry Association of Japan (RIAJ).
Twice released their first full-length Korean album, Twicetagram, on October 30 with its lead single titled
"Likey". The music video for the song was filmed in Canada in early September. "Likey" was composed by Black Eyed Pilseung and Jeon Gun. It was the group's fourth collaboration with Black Eyed Pilseung. Several composers and songwriters participated in the album including the Korean members of Twice as lyricists and former Wonder Girls' member Hyerim who co-composed the eighth track titled "Look At Me". The album and its lead single debuted atop both Billboard's World Albums and World Digital Song Sales respectively—the group's first number 1, making Twice the first female K-pop act to lead on both charts. They also rose on the Heatseekers Albums as the album debuted at number 10, one position higher than Signals peak at number 11. The Christmas-inspired reissue of Twicetagram, titled Merry & Happy, along with its title track "Heart Shaker" was released on December 11, 2017.
Twice's endorsement "11th Street" had a turnover of 64 billion wons on 11th November 2017, with dealing of 44 million wons every minutes. It is an increase of 37% compared to last year and it is a new record in the e-shopping industry.
It was officially announced through a press conference in Tokyo that the group would debut on
the 68th Kōhaku Uta Gassen, the top-rated annual year-end musical show in Japan produced by NHK. It was held live at NHK Hall on December 31, where Twice performed "TT (Japanese ver.)". They were the first Korean artist to attend the event in the last six years and the fourth K-pop group after TVXQ, Kara and Girls' Generation.
2018
Twice's second Japanese maxi single titled "Candy Pop" was pre-released on January 12, 2018 and the CD single dropped on February 7. The group also embarked on their first concert tour in Japan titled Twice Showcase Live Tour 2018 "Candy Pop", starting on January 19 in Aichi Prefecture.
On February 18, JYPE released their second Twiceland tour "Twiceland ZONE 2: Fantasy Park" teaser via social network sites. The tour currently announced to take place in Seoul, Saitama and Osaka.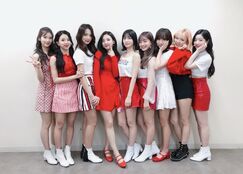 By February 23, Twice has sold over 1 million copies of their album in 8 months into their Japan debut, with #TWICE sold 326,400 copies, One More Time sold 329,400 copies and Candy Pop sold 402,319 copies.
On March 24, Twice released teaser for their 5th extended play titled "What Is Love?", released on April 9, with a showcase the same day.
On April 13, Twice performed "What Is Love?" in KCON Japan 2018.
On April 24, Twice's Japan YouTube channel uploaded the music video for Twice's third Japanese single album ''Wake Me Up''. The CD single is scheduled for release on May 16 before holding another tour. The tour, titled Twice 2nd Tour: Twiceland Zone 2 – Fantasy Park, began in Seoul on May 18–20.
Twice released a cover of "I Want You Back" by The Jackson Five as an OST for the soundtrack of the Japanese movie "Sensei Kunshu". The whole song was covered in english. Both the song and music video was released digitally on June 15.
On June 17, Twice's Official Twitter posted a teaser for their 8th single titled "Dance The Night Away".
On June 27, Twice made a collaboration with the cast of "Sensei Kunshu" for a special music video of "I Want You Back" as promotion for the movie.
On July 9, Twice release's the Dance The Night Away music video. Twice sets a new personal record of 20,387,875 views within 24 hours of the music video's release.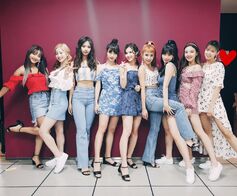 July 13 marks the beginning of
Dance The Night Away
broadcast stages.
On July 15, we celebrate being with Twice for 1000 days as Once.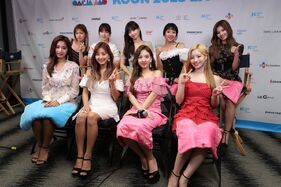 Twice attended this years KCON LA. They were scheduled on the 2nd day of the con which was August 11.
On August 17, Twice released the song and music video for BDZ.
On August 20, Twice participated in this years ISAC (Idol Star Athletics Championships).
Their first Japanese studio album "BDZ" was released on September 12, and on October 10, the Recording Industry Association of Japan (RIAJ) confirmed its platinum certification.
At approximately 7 a.m. KST on October 11, TWICE's "What is Love?" hit 200 million views on YouTube, making it their seventh music video to do so. The music video only took 6 months and 1 day to reach the achievement.
On October 17, TWICE announced the big news that they'll be performing shows at some of Japan's famous dome stadiums in 2019. The announcement includes two dates at Tokyo Dome, one at Nagoya Dome, and one at Kyocera Dome.
October 20 is the group's third anniversary, and TWICE first celebrated by releasing a video of fun and special moments from their history. The video is titled "Do You Like TWICE?" which is a perfect fit for their mini album "Yes or Yes." The end includes a quick teaser of their upcoming release.
On October 23, the 2018 MGA organizers revealed, "TWICE will be making their comeback on November 5 by releasing their new album and holding a showcase. The day after, the girl group will be putting on a performance for their upcoming track for the first time on television via the 2018 MGA."
Yes Or Yes MV breaks K-pop records:
The fastest K-pop girl group music video to hit 20 million views, doing so in just 10 hours and 27 minutes.
The fastest K-pop girl group to 10 million views, hitting the mark in 6 hours and 2 minutes.
On November 6, TWICE won a Daesang at the 2018 MBC Plus X Genie Music Awards.
On November 7 at 7:30 p.m. KST, "YES or YES" came in first place on the realtime and daily charts of all six major Korean music sites (Melon, Genie, Bugs, Mnet, Naver, and Soribada) as well as iChart's realtime chart.
On November 10 at 1:30 p.m. KST, Instiz's iChart confirmed that Yes Or Yes had hit No. 1 on the realtime and daily charts of all six major music sites (Melon, Genie, Bugs, Mnet, Naver, and Soribada), as well as iChart's realtime and weekly charts.
On November 13, Japanese media outlet Oricon Style reported, TWICE's mini album Yes Or Yes recorded 33,000 albums sold in its first week, and TWICE also took their first No. 1 with an imported album on Oricon's weekly album chart.
On November 15, Gaon Chart announced that the girl group had earned a quadruple crown after topping four of its weekly charts. TWICE took No. 1 on the physical album chart, the overall digital chart, the download chart, and the social chart for the week of November 4 to November 10.
According to YouTube FanFest's website, TWICE is one of the many artists to perform at the Japanese leg of the year-long, international event.
2019
Fancy and Feel Special
They released the music video for Fancy on April 22 at 6 p.m. KST. As of 24 hours later on April 23 at 6 p.m. KST, the music video garnered 39,854,198 views on YouTube. Soon after its release, Fancy You topped iTunes album charts in at least 25 countries including Singapore, Thailand, Greece, Germany, Brazil, and Mexico. Fancy also topped iTunes song charts in at least eight countries including Hong Kong and Vietnam. They also topped korean music charts by taking No. 1 on Melon, Genie, Bugs, Mnet, Naver, and Soribada.
As of April 22 at 9 p.m. KST, the track Fancy placed No. 1 on Japanese music streaming service Line Music's Top 100 chart, with the chart also including the group's b-side tracks. Thus, all six songs from Fancy You took over the chart's top six.
Twice started their Twicelights Word Tour 2019 with their first concert taking place on May 25, 2019 in South Korea. On July 11, 2019, JYPE announced via its official Fans website that Mina would not be participating in their Word Tour from the Singapore stage onwards due to health reasons regarding sudden extreme anxiety and insecurity towards performing on stage.
On August 20, 2019, JYPE reports working with Youtube to produce original content featuring TWICE, who will be the first Korean girl group to have original Youtube content following BTS. The videos will be released to fans worldwide in the first half of 2020.
On August 26 2019, JYPE confirmed Twice's 8th comeback in September, and have already filmed their music video in the beginning of August. The EP Feel Special (Extended Play) released on September 23, 2019 along with the music video produced by Park Jin Young. The single reached group's second number 1 on the Billboard's World Digital Song Sales which previously hit the top spot in 2017 with "Likey". The single also debuted on the Canadian Hot 100 chart at number 82 and it is the group's first entered on the chart, making Twice the third K-pop girl group and ninth K-pop act to appear on the chart.
2020
In October 2019, the group added two stops to their world tour "Twicelights" at the Tokyo Dome. An encore of the tour called the "Twicelights World Tour Finale" was initially to be held in Seoul on March 7 and 8, 2020 at the KSPO Dome but was eventually canceled due to the COVID-19 pandemic. The documentary series Twice: Seize the Light follows the members throughout their journey as trainees to their first world tour "Twicelights". The series includes nine episodes and premiered April 29 on YouTube Originals.
On February 24 2020, it was announced that the group had signed with Republic Records for promotion in the United States as part of JYP Entertainment's partnership with the label.
On April 24, the JTBC television company presented two different versions of the theme song of its logo that were performed by Twice and Crush, respectively, as part of their reorganization
More & More & Eyes wide open
On April 28, Twice held a premiere live stream on YouTube before the release of their first YouTube Original content of "TWICE: Seize The Light", they talked about their Twicelights Word Tour 2019 and answered all fans questions. At the end of the live stream, Jihyo revealed their comeback date on June 1, 2020 with their new title track - "More & More". The group's ninth Korean EP, was released on June 1, 2020. The EP recorded over 550,000 sales on Gaon, making it not only Twice's best selling album to date but also the best-selling girl group album in South Korea in 20 years. The EP debuted at number 200 on the Billboard 200, making Twice the fourth South Korean girl group to enter the chart, after Girls' Generation, 2NE1 and Blackpink. Twice also entered the Billboard Artist 100 for the first time, debuting at number 96.
On August 9, Twice held their first online concert titled "TWICE: World In A Day" in response to their "Twicelights World Tour Finale" which had been cancelled earlier in the year. The group worked with the Beyond LIVE platform launched by SM Entertainment and Naver for the concert, becoming the first artist outside of SM Entertainment to host an online concert using the platform.
After 4 months of the last comeback "More & More", on September 30, 2020, JYPE confirms that Twice will be making a comeback with a full album on October 26, 2020. They reported that they have worked with a new MV production company to film their music video and are expected to show a different charm and concept for this comeback. It was revealed that the next concept is retro and the album name "Eyes wide open"; the album is the 2nd Korean full album after "Twicetagram". The album also comes out in celebrating their 5th anniversary., before the comeback, Twice released a 5th-anniversary video to thank all the fans for their support for the last 5 years. "Eyes wide open" was released on October 26, 2020. Two months later after the release of the 2nd full album, it debuted at number 72 on the US Billboard 200, marking the group's highest entry on the chart surpassing More & More, as well as making Twice only the third K-pop girl group to break within the top 100 of the chart, after 2NE1 and Blackpink.
On October 16, 2020, Twice is collaborating with K/DA (League of Legends virtual girl group) on their new album for a song called "I'LL SHOW YOU". The group's four members performed the song alongside American singer-songwriters Bekuh Boom and Annika Wells.
The group made their US television debut with their appearance on the "#PlayAtHome" series of The Late Show With Stephen Colbert on November 30, performing their song "I Can't Stop Me".
Cry For Me
During their appearance at the 2020 Mnet Asian Music Awards on December 6, Twice gave a surprise performance of their unreleased track titled "Cry For Me" which was described by the group as a present for their fans, and after high demand, the song was officially released as a digital single on December 18. The song debuted atop the Billboard World Digital Song Sales Chart on the chart dated January 2, 2021, and also became the group's third entry on the Billboard Global Excluding US Chart debuting at #122.
2021–present: Taste of Love, Perfect World and "The Feels"
On January 28, Twice made an appearance on the Time 100 Talks series held by Time magazine via livestream broadcast, with the group delivering a special performance of their track "Depend On You" from their Eyes Wide Open album.
On March 6, the group held their second online concert titled "Twice in Wonderland", which was first announced on January 14. The concert was held in partnership with NTT Docomo and was broadcast using various technologies including AR (augmented reality) and MR (mixed reality). At the end of their online concert, Twice announced the release of their upcoming Japanese single "Kura Kura" to be slated on May 12. "Kura Kura" was pre-released on online streaming platforms on April 20. Its music video was also released on the same date.
On April 19, JYP Entertainment announced the group's upcoming mini-album that is planned to be released in June 2021. On April 28, Twice appeared on The Kelly Clarkson Show with a performance of their single "Cry For Me". The group's tenth Korean EP, Taste of Love, was released on June 11. "Alcohol-Free", the EP's lead single, was pre-released on June 9, along with its music video. After the release of the music video, the number of YouTube views exceeded 20 million in just 24 hours. In the week ending June 17, Taste of Love debuted at number 6 on the Billboard 200, becoming Twice's first top 10 album in the United States with 46,000 album-equivalent units earned. Of that sum, the EP recorded 43,000 physical sales, making it the best selling album in the US for the week. With this, Twice became the first female Korean act to chart an EP within the top ten of the Billboard 200, and just the second female Korean act to have a top 10 album in the chart.
The group's third Japanese studio album Perfect World was released on July 28. It features 10 tracks, including the lead single "Perfect World" and three earlier singles, "Fanfare", "Better", and "Kura Kura".
The group is set to release their first official English single "The Feels" on October 1, 2021.
Official Media
Korea
Japan
Discography
Main article: Discography
Filmography
Television
Main Article: TV Shows
Dramas
Endorsements
Main Article: Endorsements
Videography
Music video appearances
Books
Photobook
Photobook
Information
Content
1
JYP Nation 2016 Mix & Match Official Goods - Twice Mini Photobook

Release date: September 8, 2016

2
ONE IN A MILLION - Twice 1st Photobook

Release date: July 10, 2017

3
Twice TV5 Photobook - Twice TV5 Photobook
4
To. ONCE From. JIHYO - Twice Photobook by Jihyo

Released date: November 30, 2017

5
둡또카 Photobook - Photograph by DAHYUN

Released date: April 18, 2018

6
To. ONCE From. JIHYO 2 - Twice Photobook by Jihyo

Released date: October 18, 2018
Part of merchandise from "Once Halloween" Fanmeeting

7
Yes, I am Tzuyu. - 1st Photobook




Released date: April 27, 2020

2 versions
254 pages
Accordion postcard set : 8 in 1 set
Pre-Order benefit photocard: 2 in 1set
Special Ticket (Fan-meeting) : 50 fans only

8
Yes, I am Mina. - 1st Photobook

Released date: December 30, 2020

2 versions - gray and pink
Accordion postcard set
Pre-Order benefit photocard: 2 in 1set
Photocard
Special photocard

9
Yes, I am Sana - 1st Photobook

Released date: April 9, 2021




2 versions - white and black
Accordion postcard set
Pre-Order benefit photocard: 2 in 1set
Photocard
Special photocard

10
Yes, I am Jihyo - 1st Photobook

Scheduled date: August 20, 2021




2 versions - lemon and cobalt blue
Accordion postcard set
Pre-Order benefit photocard: 2 in 1set
Photocard
Special photocard
Gallery
Magazine
Edition
Information
Content
1
TWICEZINE VOL.1

Release date: February 21, 2017

2
TWICEZINE VOL.2

Release date: August 1, 2017

Only available for 1st Gen Official "Once" members
3
TWICEZINE - Jeju Island Edition

Release date: October 12, 2017

Photobook
Mini poster 9 each
Photocard 9 each
Making Film (DVD)

4
TWICEZINE Only for ONCE Special

Release date: October, 2018

Only available for 2nd Gen Official "Once" members
5
TWICEZINE - Halloween ONCE Edition

Released date: October 28, 2018

Part of merchandise from "Once Halloween" Fanmeeting
Limited Edition (only available on release date)
Gallery
| | |
| --- | --- |
| | To view the TWICEZINE gallery, click here. |
Other
'트와이스 깔 거야?' Exposing Twice? (book made by Twice for KBS TV show Pot Stand)
Videos
Once - Twice Official Fanclub
Main Article: Once
Trivia
The most common game that Twice plays during breaks are Mafia Game, Ginseng Game,
For three years in a row, Twice ranked second on the top 10 artists category in Gallup Korea's annual public polls from 2016 to 2018. During the same years, three members, Nayeon, Tzuyu, and Jeongyeon ranked among the top 20 idols category. Dahyun ranked only in 2017. Sana and Momo ranked only in 2018.