The Twice World Tour 2019 was annouced on April 8, 2019 (KST). On July 17, 2019 (JST) 12 additional performances were announced for Japan.
Tour Dates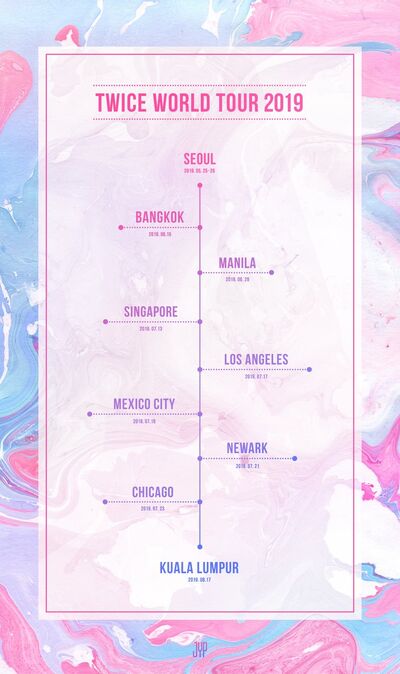 Date
Time (locally)
City, Country
Venue
May 25, 2019
6pm
Seoul, South Korea
KSPO Dome
May 26, 2019
5pm
June 15, 2019
6pm
Bangkok, Thailand
Impact Area, Muang Thong Thani
June 29, 2019
5pm
Manila, Philippines
Mall of Asia Arena
July 13, 2019
5pm
Singapore
Singapore Indoor Stadium
July 17, 2019
7:30pm
Los Angeles, California, USA
The Forum
July 19, 2019
7:30pm
Mexico City, Mexico
Palacio de los Deportes
July 21, 2019
7:30pm
Newark, New Jersey USA
Prudential Center
July 23, 2019
7:30pm
Chicago, Illinois USA
Wintrust Arena
August 17, 2019
4:30pm
Kuala Lumpur, Malaysia
Axiata Arena
October 23, 2019
6pm
Hokkaido, Japan
Makomanai Ice Aren
October 27, 2019
6pm
Chiba, Japan
Makuhari Messe International Exhibition Hall 9-11
October 29, 2019
October 30, 2019
November 6, 2019
6pm
Osaka, Japan
Osaka-jō Hall
November 7, 2019
November 16, 2019
5pm
Miyagi, Japan
Sekisui Heim Super Arena
November 17, 2019
November 29, 2019
5pm
Aichi, Japan
Nagoya International Exhibition Hall
November 30, 2019
December 1, 2019
February 11, 2020
5pm
Fukuoka, Japan
Marine Messe Fukuoka
February 12, 2020
6pm
February 22, 2020
5pm
Shizuoka, Japan
Ecopa Arena
February 23, 2020
March 7, 2020
Canceled due to COVID-19 pandemic
Seoul, South Korea
KSPO Dome
March 8, 2020
April 15, 2020
Canceled due to COVID-19 pandemic
Tokyo, Japan
Tokyo Dome
April 16, 2020
Special Performances
For the special performances in Twice World Tour 2019, Twice members were split into 3 teams in performing 1 song each:
Tzuyu, Sana, Dahyun - Dance For You by Beyoncé
Jihyo, Momo - Sayonara Hitomi (Goodbye) by Taemin
Nayeon, Jeongyeon, Mina, Chaeyoung - Born This Way by Lady Gaga
On 19 August 2019, Billboard revealed that JYP Entertainment and YouTube have partnered to produce a YouTube Originals docu-series starring Twice, based around the North American leg of the tour. The series promises exclusives, in-depth interviews and analyses, as well as an "intimate and personal portrayal of all of TWICE's members." Viewers will also get a look into the group's four-year journey and how they've risen to become a new leader in K-pop with No. 1s across Billboard's World Albums and World Digital Song Sales charts. The series is currently in production and will be released in the first half of 2020. A teaser for the series was uploaded to Twice's official YouTube channel on 20 August at midnight. The first teaser video was uploaded on 9 April 2020, revealing that the series would be called Seize the Light with the first episode releasing on 29 April 2020. New episodes will be uploaded every Wednesday.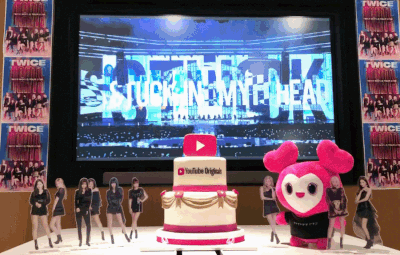 Video Gallery
Trivia
JYPE announced Mina's temporary hiatus due to health concerns on July 11, 2019; hence she was not able to join the Twice members to continue on their World Tour. Her last concert appearance was on June 29, 2019 at the Philippines. She rejoined the tour on October 23, 2019 for the Hokkaido, Japan stop.
On March 3 and 4, 2020, the group would perform on two newly added stops of their world tour "Twicelights" at the Tokyo Dome. An encore of the tour called the World Tour Twicelights Finale was initially held in Seoul on March 7 and 8, 2020 at the KSPO Dome, but was canceled afterward due to concerns about the 2019–20 coronavirus outbreak.
Community content is available under
CC-BY-SA
unless otherwise noted.